Molluscum Contagiosum
Molluscum contagiosum is a common skin infection caused by the virus Molluscum contagiosum. It produces benign raised bumps, or lesions, on the upper layers of skin.
The small bumps are usually painless. They disappear on their own and rarely leave scars when they're left untreated. The length of time the virus lasts varies for each person, but the bumps can remain from two months to four years.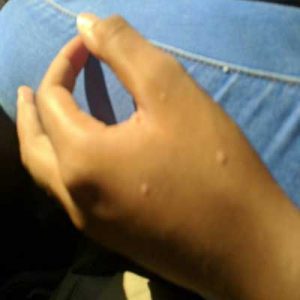 Molluscum contagiosum is spread by direct contact (person to person) with someone who has it or by touching an object contaminated with the virus, such as a towel or a piece of clothing.
Most people get about 10 to 20 bumps on their skin. If a person has a weakened immune system, many bumps often appear. People who have AIDS can have 100 or more bumps.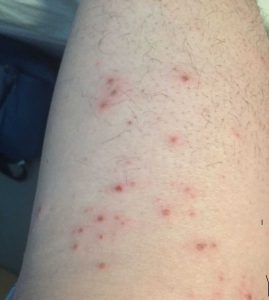 Medication and surgical treatments are available, but treatment isn't necessary in most cases. The virus can be more difficult to treat if have a weakened immune system.
If anyone comes into contact with the M. contagiosum virus, may not see symptoms of infection for up to six months. The average incubation period is between two and seven weeks.
Notice the appearance of a small group of painless lesions. These bumps can appear alone or in a patch of about 10 to 20 bumps. They're usually:
Very small, firm, shiny, dome-shaped and smooth in appearance.
Flesh-colored, white, or pink.
Are painless, but some bumps itch.
Firm and shaped like a dome with a dent or dimple in the middle. The dimple may be filled with a thick, white substance that is cheesy or waxy.
Filled with a central core of waxy material.
Between 2 to 5 millimeters in diameter, or between the size of the head of a pin and the size of an eraser on the top of a pencil.
Present anywhere except on the palms of hands or the soles of feet — specifically on the face, abdomen, torso, arms, and legs of children, or the inner thigh, genitals, and abdomen of adults.
In a weakened immune system, may have symptoms that are more significant. Lesions may be as large as 15 millimeters in diameter, which is about the size of a dime. The bumps appear more often on the face and are typically resistant to treatment.
A virus (pox virus) causes molluscum. There are 2 ways to get this virus:
Touch something infected with the virus. Anyone can get molluscum by using an infected towel. It gets from touching infected clothing or toys. Wrestlers and gymnasts get it from touching infected mats.
This skin disease is most often seen in children. People who live in a tropical climate also are more likely to get molluscum. The virus thrives in a warm, humid place. Having atopic dermatitis, the most common type of eczema also increases the risk of getting molluscum contagiosum. Have direct skin to skin contact. Children often get molluscum because they have lots of direct skin to skin contact with others. People who participate in contact sports such as wrestling get molluscum from the direct skin to skin contact. Teens and adults often get the virus through sexual contact.
Once infected with the virus, a person can spread the virus to other parts of the body. Scratching or picking at bumps on the skin and then touching skin that does not have bumps can spread the virus and cause new bumps.
When a person has a weak immune system due to a medical condition such as AIDS or treatment for cancer, the person can get a serious case of molluscum contagiosum.
Molluscum contagiosum usually gets better (a healthy immune system) without treatment in six to 12 months. It's possible to continue developing bumps for up to five years. Once all of the bumps are gone, it will no longer contagious.
Doctors may recommend that the lesions be removed before they disappear on their own, particularly in adults, because they are so contagious. Treatments for molluscum contagiosum can be painful, so an anesthetic might be administered beforehand to lessen discomfort. Sometimes a combination of treatments may be used.
In some cases, directly medication to the lesions may be helpful. Like:
Irritating products: These preparations often contain ingredients such as salicylic acid or potassium hydroxide that help dissolve the lesion over time. Others may cause a blister to form under the bump, lifting it off the skin.
Topical creams: Prescription creams and gels containing retinoids, like tretinoin (Atralin, Retin-A, others), adapalene (Differin) and tazarotene (Avage, Tazorac) — have been used to treat molluscum contagiosum. These medications cannot be used during pregnancy.
Surgical and others: The methods doctors use to remove molluscum contagiosum bumps include:
Scraping.
Freezing (cryotherapy).
Laser therapy.
Molluscum contagiosun doesn't stay in the body once the infection has cleared up, but can be reinfected with this virus if come in contact with someone who has an active infection.
If suspect molluscum contagiosum related lesion occur, consult a doctor.
Oxford hand Book of Medical Dermatology
ABC Of Dermatology
Clinical Dermatology
Roxburgh's common skin diseases
Andrew's Diseases of the skin
Molluscum Contagiosum
TUI - Tibot Urgency Index
Recommendation for you