Acne & Rosacea
Acne is a disfiguring disorder of the pilosebaceous apparatus characterized by comedones, papules, pustules, cysts and scars. Acne lesions develop from the sebaceous glands associated with hair follicles—on the face, external auditory meatus, back, chest, and ano-genital area. Sebaceous glands are also found on the eyelids and mucosa, prepuce and cervix, where they are not associated with hair follicles. The sebaceous gland contains holocrine cells that secrete triglycerides, fatty acids, wax esters, and sterols as "sebum".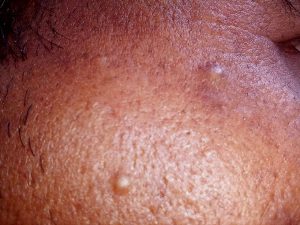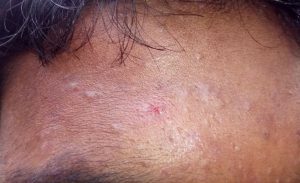 The main changes in acne are: 
(1) It increases in sebum secretion. 
(2) Acne thickening of the keratin lining of the sebaceous duct, to produce blackheads or comedones. 
(3) It increases in Propionibacterium acnes bacteria in the duct; 
(4) It increases in free fatty acids; 
(5) It inflammation around the sebaceous gland. 

Prevalence 
Nearly all teenagers have some acne (acne vulgaris). It affects the sexes equally, starting usually between the ages of 12 and 14 years, tending to be earlier in females. The peak age for severity in females is 16–17 and in males 17–19 years. Variants of acne are much less common. Boys are more commonly affected than girls. 
Acne, also known as acne vulgaris, is a long-term skin disease that occurs when hair follicles are clogged with dead skin cells and oil from the skin. It is characterized by blackheads or whiteheads, pimples, oily skin, and possible scarring. It primarily affects areas of the skin with a relatively high number of oil glands, including the face, upper part of the chest, and back. Rosacea is a long-term skin condition that typically affects the face. It results in redness, pimples, swelling, and small and superficial dilated blood vessels. Often the nose, cheeks, forehead, and chin are most involved. Tibot classifies the following different types
ACNE CONGLOBATA (NODULOCYSTIC ACNE)
NEONATAL ACNE (NEONATAL PUSTULOSIS) PERIORAL
It depends upon the severity of condition: 
Whiteheads like: closed plugged pores

 

Blackheads like: open plugged pores

 

Small red, tender bumps called papules

 

Pimples /pustules, which are papules with pus at their tips

 

Large, solid, painful lumps under the surface of the skin called nodules

 

Painful, pus-filled lumps beneath the surface of the skin or cystic like lesions

 
Hair follicles clogged by oil and dead skin cells

 

Bacteria

 

Excess activity of a type of hormone (androgens)

 
Some factors are trigger or aggravate acne: 
Hormones

 

Certain medications

 

Diet

 

Stress
Target of treatment: 
Control your acne

 

Avoid scarring or other damage to your skin

 

Make scars less noticeable

 
Topical medications 
Retinoids and retinoid-like drugs. This medication can apply in the evening, beginning with three times a week and then daily as your skin becomes used to it. It works by preventing plugging of the hair follicles.

 

Antibiotics. These work by killing excess skin bacteria. For the first few months of treatment, you may use both a retinoid and an antibiotic, with the antibiotic applied in the morning and the retinoid in the evening. Antibiotic use by their regimen & short period of time. Topical antibiotics alone aren't recommended.

 

Salicylic acid and azelaic acid. Salicylic acid may help prevent plugged hair follicles and is available as both wash-off and leave-on products. It's even more effective when used in combination with erythromycin. Studies showing its effectiveness are limited.

 
Dapsone. Dapsone (Aczone) 5 percent gel twice daily is recommended for inflammatory acne, especially in adult females with acne.

 
Oral medications 
Antibiotics. For moderate to severe acne need oral antibiotics.. Usually the first choice for treating acne is tetracycline — such as minocycline or doxycycline — or a macrolide. Oral antibiotics should be used for the shortest time possible.

 

Combined oral contraceptives. Four combined oral contraceptives are approved by the FDA for acne therapy in women. They are products that combine estrogen and progestin. You may not see the benefit of this treatment for a few months, so using other acne medications with it the first few weeks may help.

 
Anti-androgen agents. The drug spironolactone may be considered for women and adolescent girls if oral antibiotics aren't helping. It works by blocking the effect of androgen hormones on the sebaceous glands.

 

Isotretinoin. Isotretinoin is a powerful drug for people whose severe acne doesn't respond to other treatments. But it need closely monitor.

 
Therapies 
These are use for selected cases with combination medications. 
Lasers and photodynamic therapy.

 

Chemical peel.

 

Extraction of whiteheads and blackheads.

 

Steroid injection.

 
Treating children 
If a child has acne, consider consulting a pediatric dermatologist. 
Lifestyle and home remedies 
Twice a day, use hands to wash face with a mild soap and warm water. If acne developed around hairline then shampoo every day. Gentle shave affected skin if needed.

 
Salicylic acid, glycolic acid or alpha hydroxy acids may help for mild and moderate acne.

 

Avoid irritants like: oily or greasy cosmetics, sunscreens, hairstyling products or acne concealers.

 

Protect your skin from the sun.

 

Protect your acne-prone skin from contact with items such as phones, helmets, tight collars or straps, and backpacks.

 

Avoid touching or picking at the acne areas.

 
You should see your doctor if you have moderate or severe acne.

 

To treated properly to avoid scarring for developed nodules or cysts. 

 

Treatments can take up to 3 months or more. So don't expect results comes shortly.

 
ABC Of Dermatology
Clinical Dermatology

 

Oxford hand Book of Medical Dermatology

 
Acne & Rosacea
TUI - Tibot Urgency Index
Recommendation for you