Dermatomyositis
Dermatomyositis is an idiopathic and rare inflammatory myopathy with characteristic cutaneous findings that occur in children and adults. This systemic disorder most frequently affects the skin and muscles but may also affect the joints, the esophagus, the lungs, and, less commonly, the heart. Dystrophic calcinosis may complicate dermatomyositis and is most often observed in children and adolescents. There's no cure for this condition, but symptoms can be managed.
In adults, dermatomyositis usually occurs from the late 40s to early 60s. In children, it most often appears between 5 and 15 years of age. Dermatomyositis affects more females than males.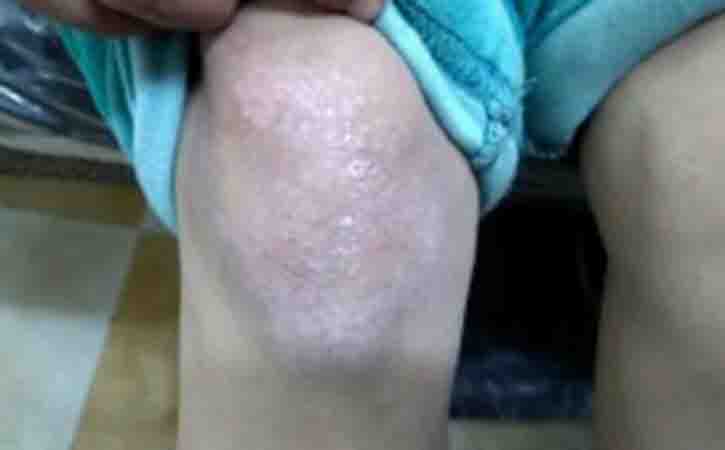 The cause is unknown. Theories include that it is an autoimmune disease or a result of a viral infection. It is a type of inflammatory myopathy. Analyzeis typically based on some combination of symptoms, blood tests, electromyography, and muscle biopsies.
Persons with dermatomyositis often present with skin disease as one of the initial manifestations, and it may be the sole manifestation at onset in perhaps as many as 40% of individuals with this condition.
Skin involvement may manifest as follows:
A violet-colored or dusky red rash develops,
Eruption predominantly on photo-exposed surfaces,
Pruritus of skin lesions, sometimes intense enough to disturb sleep,
Erythema of the mid-face,
Eruption along the eyelid margins, with or without periorbital edema,
Eruption on the dorsal hands, particularly over the knuckles,
Changes in the nail folds of the fingers,
The eruption of the upper outer thighs,
Scaly scalp or diffuse hair loss,
Can be itchy and painful.
Muscle disease may occur concurrently, may precede the skin disease, or may follow the skin disease by weeks to years. Muscle involvement manifests as the following:
Proximal muscle weakness,
Muscle fatigue/weakness when climbing stairs, walking, rising from a seated position, combing hair, or reaching for items above shoulders,
Muscle tenderness: May occur, but not a typical feature of dermatomyositis.
Systemic manifestations that may occur include the following:
General systemic disturbances, fever, arthralgia, malaise, weight loss, Raynaud phenomenon,
Dysphagia due to esophageal skeletal muscle involvement,
Gastroesophageal reflux due to esophageal smooth muscle involvement,
Dysphonia,
Atrioventricular defects, tachyarrhythmias, dilated cardiomyopathies,
Gastrointestinal ulcers and infections, more common in children,
Pulmonary involvement due to the weakness of thoracic muscles, interstitial lung disease,
Subcutaneous calcification, which may result in contracture of joints; more common in children,
Children may also develop a tiptoe gait secondary to flexion contracture of the ankles in early childhood,
Malignancy in adult patients.
The exact cause of dermatomyositis isn't known. However, it has many similarities to an autoimmune disease. An autoimmune disease occurs when the body's disease-fighting cells, called antibodies, attack healthy cells. Having a compromised immune system may also contribute to getting the disease. Like: having a viral infection or cancer may compromise the immune system and lead to the development of dermatomyositis. Small blood vessels in muscular tissue are particularly affected in dermatomyositis. Inflammatory cells surround the blood vessels and eventually lead to the destruction of muscle fibers.
It may come from a gene or be triggered by the environment, or both.
There's no cure for dermatomyositis, but treatment can improve skin and muscle strength and function. Available treatments include medication, physical therapy, and surgery. The earlier treatment is started in the course of dermatomyositis, the more effective it is.
Medications used to treat dermatomyositis include:
Corticosteroids: Drugs such as prednisone can control dermatomyositis symptoms quickly. But prolonged use can have serious side effects. So doctor, after prescribing a relatively high dose to control symptoms, might gradually reduce as symptoms improve.
Corticosteroid-sparing agents: When used with a corticosteroid, these drugs can decrease the dose and side effects of the corticosteroid. The two most common medications for dermatomyositis are azathioprine and methotrexate.
Rituximab: More commonly used to treat rheumatoid arthritis, rituximab is an option if initial therapies don't adequately control symptoms.
Antimalarial medications: For a persistent rash, the doctor might prescribe an antimalarial medication, such as hydroxychloroquine (Plaquenil).
Sunscreens: Protecting skin from sun exposure by applying sunscreen and wearing protective clothing and hats is important for managing the rash of dermatomyositis.
Depending on the severity of symptoms, the doctor might suggest:
Physical therapy: Physical exercises to help maintain and improve strength and flexibility and advice about an appropriate level of activity.
Speech therapy: If swallowing muscles are affected, speech therapy can help learn how to compensate for those changes.
Dietetic assessment: Later in the course of dermatomyositis, chewing and swallowing can become more difficult. A registered dietitian can teach how to prepare easy to eat foods.
Surgical and other procedures:
Intravenous immunoglobulin (IVIg): IVIg is a purified blood product that contains healthy antibodies from thousands of blood donors. These antibodies can block the damaging antibodies that attack muscle and skin in dermatomyositis. Given as an infusion through a vein, IVIg treatments are expensive and might need to be repeated regularly for the effects to continue.
Surgery: Surgery might be an option to remove painful calcium deposits and prevent recurrent skin infections.
Therapy for the skin disease includes the following, among other options:
Sun avoidance,
Sunscreens and photoprotective clothing,
Topical corticosteroids,
Antimalarial agents,
Methotrexate,
Mycophenolate mofetil,
Immune globulins.
Need to give medical attention and visit a doctor if develop muscle weakness or an unexplained rash. The patient needs to early analyze to start treatment specially IVIg.
Oxford hand Book of Medical Dermatology
Clinical Dermatology
Roxburgh's common skin diseases
Dermatomyositis
TUI - Tibot Urgency Index
Recommendation for you