Benign Tumors
The many cell and tissue types in skin is responsible for the enormous number of benign tumors that may arise from it. Despite the large number of such lesions, they have a limited number of clinical appearances and, because of this, accurate clinical analyze is difficult. 
Skin tumors are abnormal growths of tissue. Skin tumors become extremely common as people get older.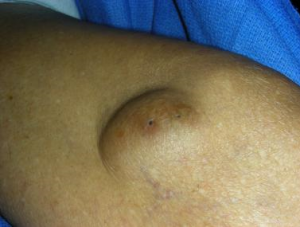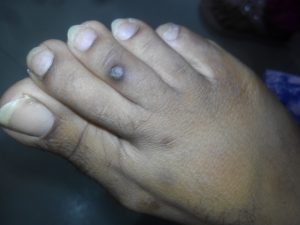 Some common benign tumors includes: 
Warts (skin tumor resulting from a virus)

 

Seborrheic keratoses (growths on the skin ranging from light skin color to dark brown)

 

Nevi (skin growths such as moles or birthmarks)

 

Dermatofibromas (scar tissue from an old bug bite or acne lesion)

 
Lipomas (normal fat in an abnormal location)

 
The following different types of Benign Tumors are tracked by Tibot
SEBORRHOEIC WARTS
MELANOCYTIC NAEVI (MOLES)
VASCULAR MALFORMATIONS (ANGIOMA) (HEMANGIOMA) [VENOUS_MALFORMATION]
DERMATOFIBROMA
NEURAL TUMORS
LIPOMA
MASTOCYTOSIS
CYSTS
MUCOCELE
KELOID
XANTHELASMA
ACROCHORDON [SKIN TAGS] [MILIA]
DERMATOSIS PAPULOSA NIGRA
Swelling in an abnormal area of the skin. Sometimes it numerous, but may appear in single number. Painless tumor has many shapes.
Depending on the location, possible symptoms of a benign tumor include:
chills
discomfort or pain
fatigue
fever
loss of appetite
night sweats
weight loss
Benign tumors may be large enough to detect, particularly if they're close to the skin. However, most aren't large enough to cause discomfort or pain. They can be removed if they are. Lipomas, for example, may be large enough to detect, but are generally soft, movable, and painless. Some skin discoloration may be evident in the case of benign tumors that appear on the skin, such as nevi. Anything that looks abnormal should be evaluated by a doctor.
The cause of skin tumors is not known, but some people may be likely to develop more or less of them based on heredity. Older people may be a cause. 

The growth of a benign tumor might be linked to:
Environmental toxins, such as exposure to radiation
Genetics
Diet
Stress
Local trauma or injury
Inflammation or infection
Cancer cells grow in the same manner. However, unlike the cells in benign tumors, cancerous cells can invade nearby tissue and spread to other parts of the body.
Often, no treatment is required for skin tumors. However, methods to treat skin tumors may include: 
Curettage and electrodesiccation: This involves scraping away the tumor tissues with a sharp surgical instrument called a curette.

 

Surgical excision: This involves cutting into the skin, removing the growth.

 

Cryosurgery: During this procedure, liquid nitrogen is sprayed directly onto the skin or an instrument is used to freeze the tissue.

 
Many internal benign tumors are found and located by imaging tests, including:
CT scans
MRI scans
mammograms
ultrasounds
X-rays
Most skin lesions are benign; however, some concern has caused the patient to make an inquiry, and a correct analyze is important.  
The accurate analyze of any skin lesions can be made by histologic examination of a skin biopsy. However, clinicians must gain the clinical acumen to correctly identify common benign skin lesions and to distinguish those skin conditions that do need a biopsy and possible further treatment. 
So, to confirm the analyze need a consultation. 
Benign Tumors
TUI - Tibot Urgency Index
Recommendation for you