Onychomycosis
Onychomycosis, also known as tinea unguium, is a fungal infection of the nail. It represents up to 30% analyzed superficial fungal infection. The toenails or fingernails may involve any component of the nail unit, including the matrix, bed, or plate. Symptoms may include nail are typically are deformed, white or yellow discoloration, thickening of the nail, and separation of the nail from the nail bed. Toenails or fingernails may be affected, but it is more common for toenails to be affected. About 10% (range 2 to 14%) of the population has onychomycosis. Toenails are 10 times more commonly infected than fingernails.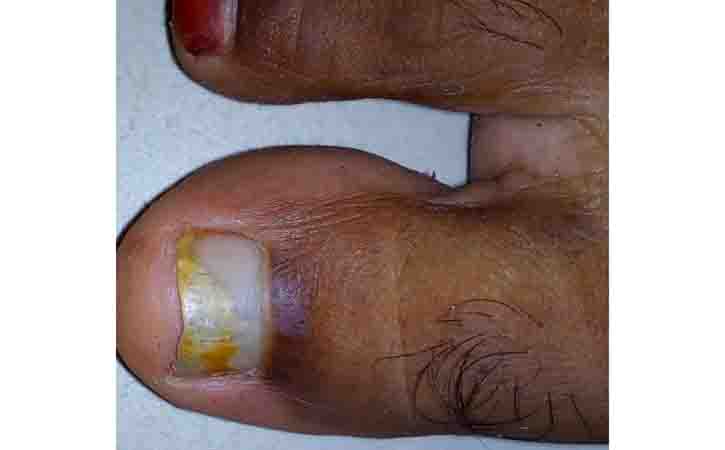 Nails have asymptomatic patches of white or yellow discoloration and deformity. There are 3 common characteristic patterns:
Distal subungual: the nails thicken and yellow, keratin and debris accumulate distally and underneath, and the nail separates from the nail bed (onycholysis),
Proximal subungual: it is a form that starts proximally and is a marker of immunosuppression,
White superficial: a chalky white scale slowly spreads beneath the nail surface.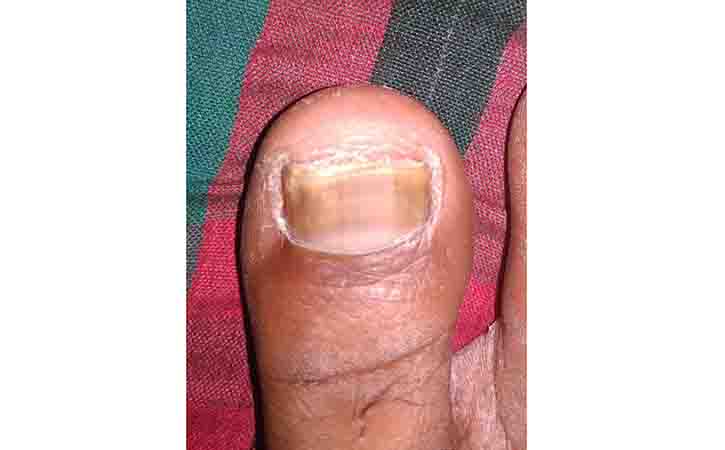 Onychomycosis can cause pain, discomfort, and disfigurement and may produce serious physical and occupational limitations, as well as reducing quality of life. Risk factors include
Tinea pedis
Preexisting nail dystrophy (eg, in patients with psoriasis)
Older age
Male sex
Exposure to someone with tinea pedis or onychomycosis (eg, a family member or through public bathing)
Peripheral vascular disease or diabetes
Immunocompromise
About 60 to 80% of cases are caused by dermatophytes (eg, Trichophyton rubrum); dermatophyte infection of the nails is called tinea unguium. Many of the remaining cases are caused by nondermatophyte molds (eg, Aspergillus, Scopulariopsis, Fusarium). Immunocompromised patients and those with chronic mucocutaneous candidiasis may have candidal onychomycosis, which is more common on the fingers. Subclinical onychomycosis can also occur in patients with recurrent tinea pedis. Onychomycosis may predispose patients to lower extremity cellulitis.
Treatment for onychomycosis can be administered topically or orally. A combination of topical and systemic treatment increases the cure rate. Adjunctive surgical measures may also be used. Topical therapy for onychomycosis is like:
Ciclopirox olamine 8% nail lacquer solution,
Amorolfine or bifonazole/urea,
Efinaconazole 10% topical solution,
Tavaborole 0.5% topical solution, an oxaborole solution,
Should be limited to cases involving less than half of the distal nail plate or for patients unable to tolerate systemic treatment,
Topical treatments may be useful to prevent recurrence in patients cured with systemic agents.
Oral therapy for onychomycosis is like:
Terbinafine,
Itraconazole,
Fluconazole and posaconazole are off-label alternatives.
Nonpharmacologic approaches include the following:
Laser treatment,
Photodynamic therapy,
Mechanical, chemical, or surgical nail avulsion,
Chemical removal with a 40-50% urea compound in patients with very thick nails,
Removal of the nail plate as an adjunct to oral therapy.
Laser treatment can be combined with topical antifungals.
To confirm analyze, need to visit a doctor. Patient can try topical treatment, but when it's not work, must visit a doctor. Doctor will suggest the treat option.
Andrew's Diseases of the skin
Onychomycosis
TUI - Tibot Urgency Index
Recommendation for you