Eczema Vs Psoriasis
—————————————————————————————————————————————–
Diagnose Eczema & Psoriasis
Use our AI chatbot to determine Eczema & Psoriasis

—————————————————————————————————————————————
Both Eczema (Atopic Dermatitis) and Psoriasis are chronic skin conditions. They can have exacerbations (flare-ups) and total remissions (disease-free periods). Since these are long-term skin conditions, it can be really distressing to the patients, when an individual is suffering from eczema and psoriasis at the same time.
What is eczema?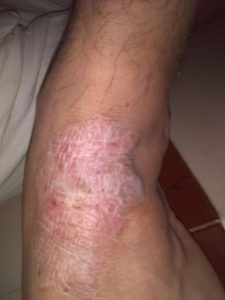 Eczema
Eczema or Atopic dermatitis is a chronic skin condition which is commonly seen in children but also in adults. It is a long-lasting disease and tends to have exacerbations (flares) and remissions (healed stage).
Eczema can be dry or wet. When it is dry there are red patches, thickened due to scratching. Become scaly, cracked and associated with dry skin. In wet eczema, there is oozing from lesions with crusting. There is a possibility of infection. The lesions are raw and angry looking. There is intense itching in eczema where sometimes sleep gets disturbed.
Eczema can run in families and may associate with Hay fever and Asthma.
Eczema usually starts in childhood and may continue to have flare-ups on and off until adulthood and afterward. Continuous and habitual scratching can lead to thick, leathery and discolored lesions.
Treatment of Eczema
There is no cure for eczema, but the disease can go in to complete remission in some individuals and luckily may never appear again.
Home remedies to prevent Eczema
Moisturize your skin well with a good emollient regularly, especially after a bath, when the skin is damp. Use a mild soap while bathing and pat dry the skin with a soft towel.
Avoid strong soaps and detergents which can worsen eczema
Apply over the counter medications like Hydrocortisone cream or prescribed creams or ointments such as Betamethasone and Mometasone over the lesions until controlled.
Avoid scratching
Use an OTC antihistamine like Chlorpheniramine, cetirizine, fexofenadine or Loratadine to prevent itching
Identify the trigger factors which can give rise to flares like excessive sweating, strong soaps, and detergents, pollen, dust, certain foods, smoking, stress etc. Avoid them as much as possible.
What is Psoriasis?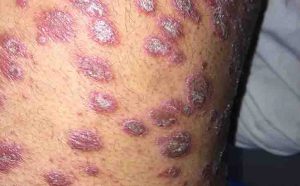 Psoriasis
Psoriasis is also a chronic skin disease which appears on and off in a person's lifetime. Here the skin cells are formed at a faster rate than they are shed. These skin cells build up as thick scales or plaques on the skin surface. The lesions are dry, itchy and as red or purplish patches with silvery scales.
There is a genetic predisposition along with trigger factors like excessive stress, smoking, sunburn and various infections which may lead to Psoriasis. There is also a disturbance in the immune system which may be a cause.
Itching can be mild to severe. As the skin is very dry, there can be a burning and stinging sensation.
Psoriasis can associate with arthritis (Inflamed, painful, swollen joints), commonly in fingers and knees. The nails, scalp, and eyes can get affected too.
There are severe forms like pustular psoriasis where tiny blisters appear which are filled with pus. In Erythrodermic psoriasis, the whole body appears red and peeling (exfoliative dermatitis) with itching and severe burning sensation. Both these conditions are severe and can be life-threatening if not treated early due to dehydration and protein loss caused by excessive shedding of skin cells. There can be associated with fever and chills too.
Home remedies
Avoid injury to skin as it can cause new lesions over those sites.
Avoid stress – practice relaxation techniques and meditation
Quit smoking if you do
Moisturize skin well and regularly with a good emollient
It is best to seek medical treatment in psoriasis early. Compliance with treatment is very important for proper control of the disease. Frequent follow up is necessary to prevent the appearance of new lesions.
There are so many treatment options like:
Topical applications – steroid creams, retinoids, Vitamin D analogs, Salicylic acid – there are well-combined products which are effective, which will be prescribed to you by your doctor. Apply as instructed.
Systemic medications – Methotrexate, Cyclosporin etc. these are taken orally with frequent monitoring for side effects.
Light therapy – using UVA or UVB light to treat psoriasis
What are the similarities between Eczema and Psoriasis?
Both skin conditions are chronic diseases which are long term. They can have exacerbations due to various reasons depending on the environmental factors and stress.
Both Psoriasis and Eczema can have disease-free periods or go into total remission.
Both diseases cannot be cured. Going into remission does not mean that the disease is cured, as it is an underlying disorder which can pop up anytime during the course of life.
Both skin conditions are associated with dry skin. Dryer your skin is, worse the skin condition would be. So it is very important to moisturize your skin well with a good emollient to prevent exacerbations.
Both Eczema and Psoriasis are itchy skin diseases. The itching can vary from mild to severe. It can be very distressing if not treated.
The lesions may appear anywhere in the body.
Both can have the genetic association and can run in families.
They are not contagious. That means it is not passed from one person to another.
**Do not be afraid to stay near them or touch them. Never stigmatize. As it can be very distressing to find out that you are being ignored due to your skin condition.
An individual with eczema and psoriasis at the same time should consult a doctor immediately.
What are the differences between Eczema and Psoriasis?
Psoriasis is commonly seen in extensor (outer) surfaces of knees and elbows, around the umbilicus, palms, soles, ears, eyebrows and back. Eczema is commonly seen in flexor (inner) surfaces of knees and elbows, ankles, wrists, and neck.
Psoriasis, when appear inthe head, is called scalp psoriasis. Eczema doesn't occur in the scalp.
Psoriasis has well defined scaly, red, purplish or silvery plaques (patches) which are thick. Eczema doesn't have well-defined lesions. There are red patches due to inflammation. It can be dry or oozing and lesions can have crusts. Swelling can be associated with eczema due to inflammation.
Psoriasis has a Koebner phenomenon. Which means lesions can appear over sites of skin damage (trauma to the skin surface). If scratching causes damaged skin, psoriatic lesions can appear along with your scratch marks. Eczema does not have a Koebner phenomenon.
Itching in eczema is more intense than in psoriasis. Sometimes patients can itch until they bleed. Psoriasis makes you itch, but also a burning or stinging sensation is felt.
If you look closely at your nails, there may be little pits seen in psoriatic patients. In eczema patients nails are shiny. Want to guess why? Because they scratch and scratch making the nails look polished and shiny.
Psoriasis patients can have associated arthritis, especially in small joints in fingers or knees. They can get painful swellings on and off. This may affect the patient's day to day activities. However, in eczema, there is no association in with arthritis.
Eczema is commonly seen in children, whereas psoriasis is commonly seen in adults.
Eczema can associate with Asthma and Hay fever. Whereas there are no such associations in Psoriasis.
Whether you are suffering from Eczema or Psoriasis or both eczema and psoriasis at the same time, remember that it is a long-term disease and you have a responsibility to avoid exacerbating factors and take the treatment as instructed by your doctor, in order to keep it under control.
Are you suffering from eczema or psoriasis or both eczema or psoriasis at the same time? Download our app and get an instant solution for your skin condition.
—————————————————————————————————————————————–
Diagnose Eczema & Psoriasis
Use our AI chatbot to determine Eczema & Psoriasis

—————————————————————————————————————————————